I've spent quite a bit of time on Philadelinquency covering the 197th District Special Election as most of you have seen.  This election would mostly join the long litany of other little special elections that trigger when state legislators are hauled away to jail: a few murmurings in the local press about whoever the Democratic City Committee picked as their replacement.  Maybe some exasperated half-hearted lamentations about how sucky the Democrat ward system is, and then it's over.
This race is different.
This is the first time ever that a registered Republican could take a seat and represent a largely urban and poor district in all of Pennsylvania.   It's not just a unique event in Pennsylvania, or in Philly, but the whole nation.
Who Is She?
Lucinda Little's day job is is a clinical research director.  She lives in Feltonville near C and Wyoming with her husband Jeff.  Both were former Democrats.  Jeff's father was Frank "Duke" Little, once the Democratic leader of the 42nd Ward.  Jeff is now the Republican ward leader in the same ward.   Jeff lives in the same house he was born in.   The couple have been rooted to the neighborhood like boat anchors and have lived through the transformation of their porchfront rowhouse community off the Boulevard into a vibrant Hispanic community that is primarily Dominican.
What Does She Want?
"Look around here, there's not one empty storefront," Lucinda says as I'm walking with her down Wyoming Avenue.  "Everywhere you turn there is a new business here and each business owner is someone who is trying to make it here and make a good living.  That's what we all want.  I wish most of my district was like this."
Much of Lucinda's district doesn't resemble the business corridors of Rising Sun, Wyoming or even the Times-Square style commercial concentration of Broad and Erie.   Much of it is plagued with abandonment.   As Hispanic communities have formed around some areas of the 197th District that had lost population, other areas of the 197th have remained depopulated and look more like ghost towns.
The African-American neighborhoods in the western areas of the 197th District are the areas that are the most severely blighted.   A few blocks exist with only one or two lonely houses, the rest have been knocked down.
We go into a store.  I translate in Spanish to the owner who Lucinda is and that she's running for state rep and that she is against the Soda Tax.   Almost every business owner lights up with anger.   At one bodega I explained Lucinda's soda tax position in Spanish and the store owner emptied months of pent-up frustration over the tax and what it has done to her business while holding up an aluminum bat she uses to protect herself behind the counter.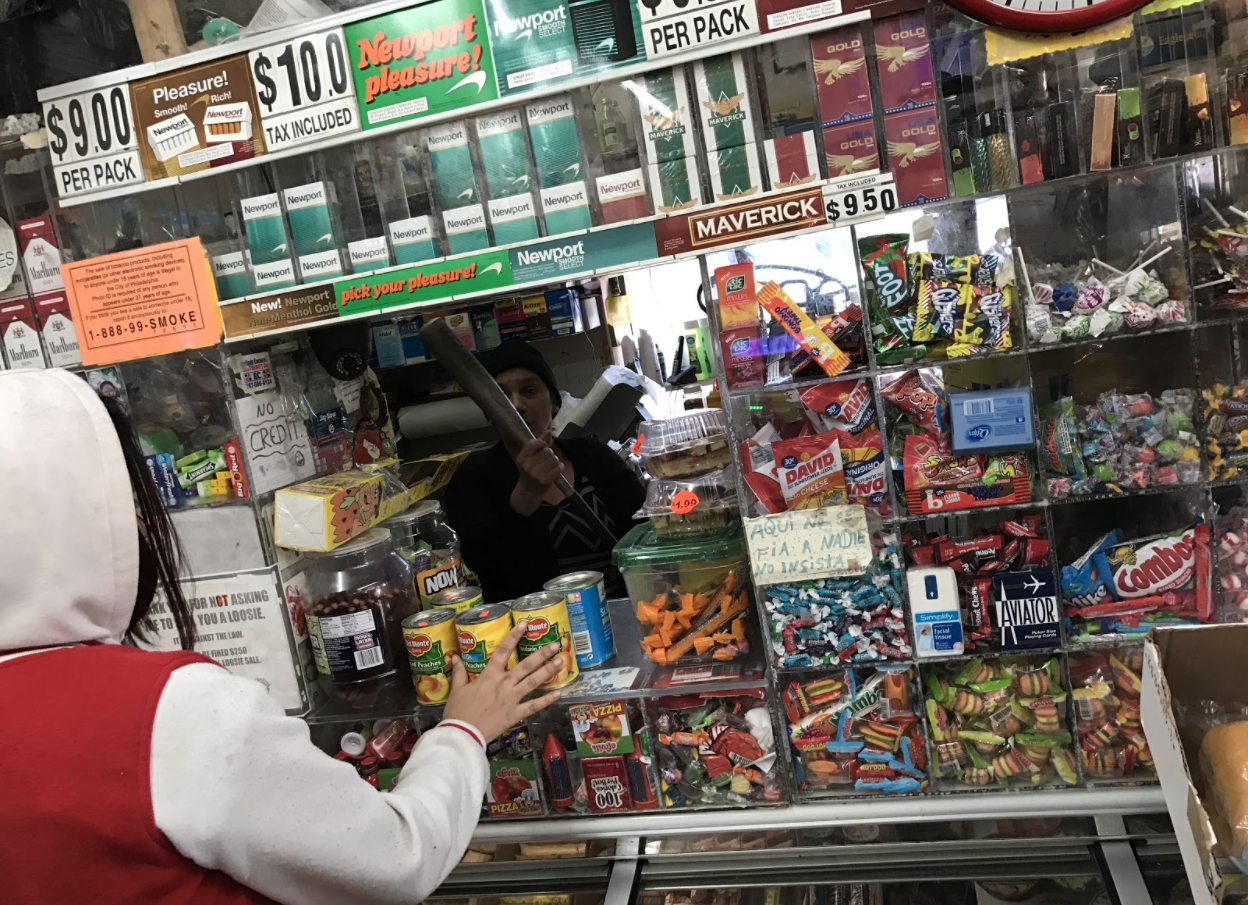 "This stupid tax is hurting us up here" Lucinda sighs in frustration.   "I mean, it's making easy work for me talk to businesses and neighbors but look around.  Have you seen anyone here in favor of this tax?"
To put it in perspective, many low-income families treat their children with take-out pizza or have parties and a standard $0.99 2-litre orange soda is pretty-much a staple product most people buy at bodegas.   At one bodega off 3rd Street in Norris Square, the price has jumped to $2.19.
The owner of Pizza Point which is near Little's house had his business disrupted and decrease since the soda tax went into effect.   "People were calling in large orders for parties and would add on the soda.  Then when we told them what the amount was they would cancel the entire thing and would call around to other stores trying to find one that hadn't raised their prices yet."  Pizza Point started getting the business back after customers realized everyone had raised their drink prices; customers just leave the drinks off their orders.
Needless to say, Lucinda Little signs immediately went up in the pizza store's windows.
Could Little Actually Affect the Soda Tax From Harrisburg?
In actuality, she can.   Little is not the only one who can change the legality of the tax.  A coalition of 31 state representatives and senators from inside and outside the city, including notable Democrats such as Senator Tony Williams have signed on to an amicus brief arguing that the tax does not comply with the Pennsylvania Constitution.
Would Little be willing to push for legislation that directly kills the soda tax?
"Absolutely.  There is no doubt in my mind that this tax is not popular at all.  None of my neighbors want it.  No one I have talked to in their homes all throughout the district want it.   The mayor pushed this tax on us and did not take one look at anything the city spends its money on.  It didn't look at DROP.  It didn't look at the property tax it doesn't collect.   They did none of those things.  They just slammed us with this."
Little has more than just one reason why she wants the soda tax gone.
"We have a huge Coca-Cola plant at G and Erie.  A lot of people who work at that plant live in the 197th District.   If those jobs go away, is the mayor gonna come up here and replace those jobs?" Little asks while rolling her eyes.   "I don't even think any of them who pushed for this tax even live here.  They couldn't find my house without GPS."
What Else Besides Soda?
I asked Lucinda why she decided to jump into this race.
"Look around you."   At this moment she was talking to a resident on Bristol and N. Reese street in Feltonville, closer to Hunting Park.  Just a few blocks away is Tierra Columbiana, the neighborhood's most-famous restaurant.  Just behind us is a large block of porchfront rowhomes.  In front of us is a strange gap where the street ended and simply turned to dirt.   A woman was pushing a cart through it, kicking up dust.
This block shares space with a deep ravine.  Down at the bottom of the ravine are traces of what was once a railroad stub that stretches on the maps from 5th Street all the way up to Fisher Avenue.   Parts of it have since been filled in.   Landfill had been poured into part of the ravine just high enough to make it possible to cross over the dirt to reach 5th Street where all the commercial stores are with steep and dangerous drop-offs to either side of the hill.
Mounds of trash and landfill reaching 4 stories high seem to be emblematic of the 197th District's woes.  At one time, the city… no one is sure who… had promised that the railroad easement would get filled and converted to open space so that Bristol Street would be reconnected and residents could use it again.  "We could have a park or a playground here" another resident piped up from the street.
Little scowled.   "Did you know Mayor Kenney proposed a $90 million park down in Center City?  Why can't we spend just a couple million to put in some dirt and grass here instead?"
Back in the car, Little unloaded.   "This really pisses me off.  This is why I ran.   All these stupid promises and not a damn thing ever gets done around here.  Everyone votes for the same clowns over and over and then they disappear.  Then they pop up like a bad habit and love to tell you they care, oh how do they care about you, then disappear again after the election.  This f—ing sucks.  Let's drive."
No Representation
The 197th District is the poorest in all of Pennsylvania and is among the most blighted of the city.  While areas like Norris Square and Feltonville are intact, dense and are the nicest neighborhoods in the district, many other parts of the district have emptied out of residents entirely.   People voted with their feet to leave the district for services that never came, cops who never responded, teachers who couldn't help, things that never got done.   Residents got tired of waiting for an economy and improvement to their lives that never came, and left.
Areas towards the center of the district, particularly the blocks along Indiana Avenue are high crime corridors with a strong relation to the opioid crisis.  The areas of the district to the west have suffered years of the neighborhoods emptying out of residents and are rife with blocks that look like toothless gaps as homes were demolished with the Neighborhood Transformation Initiative program during the Mayor Street era.
Decline-era Philly has never really discontinued in the 197th District and it is beset with problems that are mostly blight-related.   During this entire time there has never been real political representation inside this district.   Sheriff Jewell Williams represented the 197th District (prior to its current map) for over eleven years.   He did not introduce one piece of legislation in the Pennsylvania House to help this district out in a way that you can see on the ground.
Later came Jose Miranda and Leslie Acosta.  Both of these state representatives have turned into felons.   Miranda was caught putting ghost employees on his staff payroll and Acosta is pleading guilty in an FBI probe of 19th Ward Leader Carlos Matos.   Neither of these two people ever put forward legislation to do a thing to improve this district that you can see on the ground, either.
Butt Warmers
The current chaos that's going on with the 197th District Special Election skips both the forest and the trees.   A State Representative's job is to be a thorn in the ass of City Hall; to help connect residents to services that are available to them and also push legislation and vote on legislation that is in the best interests of their district and the people who live there.   That has not been done and has never been done in the 197th District no matter which way the maps were drawn for the last 30 some-odd years.  Democrats have held this area of the City for at least 50 years.
What does the community have to show for it?  Blighted half-collapsed buildings, few new parks, people moving out because of crime and lack of services and these days a new deeply-regressive soda tax pushed by people living close to Center City that is giving stomach -upset to minority business owners all across the district and is slamming the poorest households of the city.   That's the reward that the community got for voting this way for so long.
Lucinda Little wants a chance to try something different and see if she can do a better job than Sheriff Williams, Jose Miranda or Leslie Acosta did when they held the seat.
"I want everyone who has a stake in this community to fight for it.  Not just me.  I'll accept help from just about anyone.   I just want to see the 197th District get better." Little then cracks a wry smile.  "Unlike Freddie Ramirez I actually live here."
Frederick Ramirez was the Democratic candidate on Tuesday's ballot but was kicked off for not living in the 197th District.
Tags: Lucinda Little